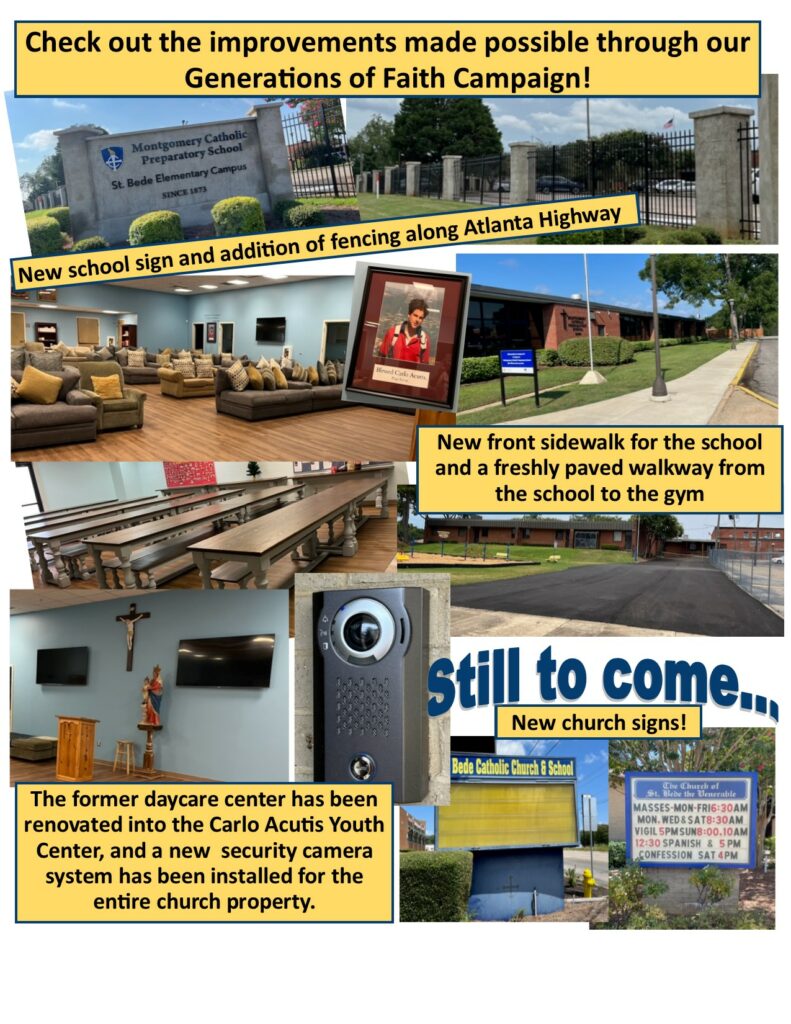 Dear Parishioners,
In 2019, before the CoViD Pandemic began, we completed our Generations of Faith Campaign! It was a great accomplishment on the part of our Parish. St Bede the Venerable Parish pledged nearly double the $1.1 million dollar goal we were asked to achieve. Since our pledges paid exceeded our goal, we are now receiving 80% of every gift paid towards our pledges beyond the goal. During the Campaign we proposed to accomplish 6 projects with the funds that benefit the parish. Thus far, we have accomplished 5 of those six projects as depicted in the photo collage. What remains are new signs for the Church and entrance to the property at Perry Hill Rd. I would like to encourage you to please continue to fulfill your pledges! Many of you have already fulfilled your pledges! Thank you so, so much. I have not. It was a sacrifice for all of us to make a pledge to the Generations of Faith Campaign and, for me. It will take the full five years to fulfill my pledge. This is true for many of you as well. I am so grateful to all of you who made pledges of all amounts to Generations of Faith. I was the director of the Seminarian Formation Endowment and can report that it was nearing $7 million as of a few months ago and is already disbursing funds to help in the annual costs for seminarian education. Our youth group has received $6000 from the Youth Ministry Endowment. As of August 2023, St. Bede Parish had redeemed $1.55 million dollars of pledges made or about 70% of total pledged! Thank you for your generosity. Let us finish the race well and fulfill the pledges we all made! May God be praised for your sacrificial support! May God continue to bless and protect us always and lead us to heaven!
Fr. Alejandro Valladares, Pastor
Estimados feligreses,
¡En 2019, antes de que comenzara la pandemia de CoViD, completamos nuestra Campaña Generaciones de Fe! Fue un gran logro por parte de nuestra parroquia. La parroquia de St. Bede el Venerable prometió casi el doble de la meta de $ 1.1 millones de dólares que se nos pidió que lográramos. Dado que nuestras promesas pagadas excedieron nuestra meta, ahora estamos recibiendo el 80% de cada regalo pagado para nuestras promesas más allá de la meta. Durante la Campaña nos propusimos realizar 6 proyectos con los fondos que benefician a la parroquia. Hasta ahora hemos logrado 5 de los seis proyectos como se muestra en el collage de fotos. Lo que falta son nuevos letreros para la Iglesia y la entrada a la propiedad en Perry Hill Rd. ¡Me gustaría animarlos a que continúen cumpliendo sus promesas! ¡Muchos de ustedes ya han cumplido sus promesas! Muchísimas gracias. Yo no lo he hecho. Fue un sacrificio para todos nosotros hacer una promesa a la Campaña Generaciones de Fe y, para mí, tomará los cinco años completos para cumplir mi promesa. Esto es cierto para muchos de ustedes también. Estoy muy agradecido con todos ustedes que hicieron promesas de todas las cantidades a Generaciones de Fe. Yo era el director de la Fundación de Formación de Seminaristas y puedo reportar que se acercaba a los $ 7 millones a partir de hace unos meses y ya está desembolsando fondos para ayudar en los costos anuales de la educación de los seminaristas. Nuestro grupo de jóvenes ha recibido $6000 de la Fundación del Ministerio Juvenil. ¡A partir de agosto de 2023, la parroquia de St. Bede ha redimido $1.55 millones de dólares de promesas hechas o aproximadamente el 70% del total prometido! Gracias por su generosidad. ¡Terminemos bien la carrera y cumplamos las promesas que todos hicimos! ¡Alabado sea Dios por su apoyo sacrificial! ¡Que Dios nos siga bendiciendo y protegiendo siempre y nos conduzca al cielo!
P. Alejandro Valladares, Párroco